Amrit Maan, known as "Goniana Wala" started his career in the music industry as a songwriter. He has written many hit songs namely Guerrilla War, Jatt fire Karda, and Haan Kargi, etc. Then he dived into the singing field, and his first song as a singer "Muchh Te Mashook" became an instant hit. Amrit Maan songs remind of old Punjabi style singing and make people nostalgic.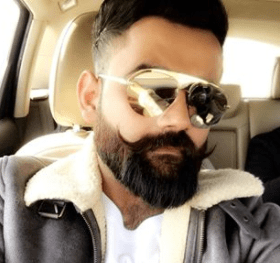 After this, he released many songs in his voice, and all the songs received an excellent response at the box office. Some of his famous songs are "Kaali Camaro," "Shikaar," "Bamb Jatt," and "Sach Te Supna." Over 43 million people viewed his latest song "Peg Di Waashna" on youtube. The specialty of his songs is the rocking music. All his numbers are so energetic that their beats make the listeners to groove on their dance floors.
BOTY has prepared a list of famous and latest songs by him. Listen to these tunes to have a good time.