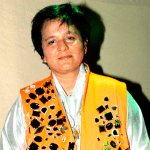 Falguni Pathak songs mostly cater to Gujarat. She mostly sings those numbers that are based on various music forms from the state of Gujarat. She has one of the magical voices in the Music industry. Her old songs are recalled even today and played with a lot of enthusiasm to date.
Some of the best Falguni Pathak songs include Chudi Jo Khanki Haath Mein, Maine Payal Hai Chhankai, Sawaan Mein and many more. The best thing about her all songs is that along with amazing music, her videos also narrate a beautiful story. Most of her songs carry the theme of love. And hence, make some of the best romantic Indian songs.
BOTY has created Falguni Pathak songs list, consisting of all her best songs so far. Now you can listen to each Falguni Pathak video song and lose yourself in her music and story.