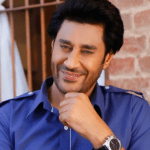 Harbhajan Mann Songs are mostly famous for Punjabi Bhangras. His voice has always urged people to get on the floor and start dancing. Starting his career in Canada, Mann moved to Punjab after realizing the growth of music here. And since then, Harbhajan rose to great heights in the region of Punjab and Punjabi music.
The first single among the super hits of Harbhajan Mann was Chithiye Nee Chithiye. This was also the very 1st song of Mann as a professional singer. Soon after, most of his songs started becoming super hits, which in turn gave way to a rising superstar of Pollywood. Seeing the success of his songs, he was approached for acting roles as well. This marked the beginning of a very prominent figure of Punjabi industry.
Some of the popular movies by this actor are Ji Aayan Nu, Dil Apna Punjabi, Mera Pind and so on. While he was not very much successful as an actor, he has made a lot of name and fame through his songs. Some of the popular Harbhajan Mann songs are Oye Hoye, Sohniye, Akh Lad Gayi, Jaandi Jaandi and many more.
BOTY has created Harbhajan Mann Songs list, where you will find all his hit singles and album tracks. Browse the list and enjoy listening to his popular Bhangra songs. We will keep updating this list with Harbhajan Mann new song, as and when it will release.