Khesari Lal Yadav songs are not only popular among the Bhojpuri speaking people. But also these are getting an excellent response from other listeners. Because of the relation of his songs to the customs, tradition, and lifestyle of native people.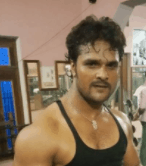 Apart from releasing his own albums, Khesari Lal Yadav has given his voice to many movies. Saj Ke Sawar, Sarso Ke Sagiya, Meetha Paani, Seva Mein Srimaan, Sofa Set Pe, are some of his popular songs. The sweetness in his singing has made him popular among the audience.
BOTY has prepared a list of Khesari Lal Yadav songs. The arrangement of these songs is made on the basis of their popularity, with the most popular song on the top. Listen to these songs for free and have a good time.