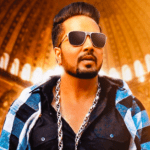 Mika Singh is a very popular singer in Bollywood. He wins the hearts of people not through the lyrics but through his voice. All Mika Singh songs carry his heavy voice in such a manner that it creates an amazing party aura.
And did you know that he is the brother of Daler Mehndi? Daler Mehndi is an extremely popular singer of Punjab. Mika Singh took it up by 1 notch and became a household name in Bollywood. All the Mika songs have been superhit party anthems, like Hawa Hawa, Aaj Ki Party, Jumme Ki Raat and many more.
Mika Singh releases new song occasionally. But whenever he releases, people go gaga for it. And so, BOTY has prepared for you all the Mika Singh songs list, where you can browse and play your favorite number any time you like.