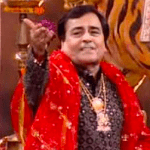 Narendra Chanchal songs are mostly Bhajans and Devotional music. He is popular for singing Punjabi Bhentein, where he sings songs related to various Goddesses.
Growing up in religious atmosphere connected him to the devotional music right since his childhood. He took music training and excelled in Bhajans and various other Aartis. Some of the popular Narendra Chanchal Bhajans are Ambe Maa Ka Dwara, Saade Ghar Vich Sagna Da Din Aaya, Tum Kripa Karo Maharani, and many more.
He has also tried singing for various Bollywood movies like Fukrey and Anjaane. But he was not much satisfied and hence shifted his focus back to the Devotional music.
BOTY has created Narendra Chanchal bhajan list, where you will find all Punjabi Bhentein for the Goddesses. Plug the music system and lose yourself in the word of God.