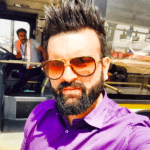 Son of popular singer Hans Raj Hans (Dil Chori fame) and son in law of Daler Mehndi, Navraj Hans has already become high profile celebrity because of his relations. But other than this also, the singer has established a strong identity of his own. Navraj Hans songs are loved by people way too much. They adore his voice and singing skills because of which his songs become super hit.
Navraj has sung many songs for the Bollywood and Pollywood movies. In addition, he has collaborated with many big artists for his songs, like Honey Singh and Neha Kakkar. Some of the top Bollywood Navraj Hans songs include Jind Meriye (Purani Jeans), Sadi Rail Gaddi Ayi (Tutak Tutak Tutiyan) and Chote Chote Peg (SKTKS). Some of the top Punjabi hits of Navraj Hans are Saiyaan, Gadi Jandi, Bhangra Paun Deo and many more.
More than Punjabi, his Bollywood songs are super hit. BOTY has created Navraj Hans Songs list, consisting of all his popular Punjabi and Hindi tracks. Check the list below and enjoy some amazing party numbers.