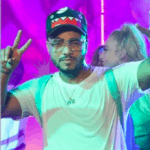 Raftaar is a very popular rapper of Punjabi Music Industry. He rose to fame after his split from the Music Group 'Mafia Mundeer'. And hence, there were a lot of controversies surrounding Raftaar and Honey Singh. One of the qualities of Raftaar songs is that you can hear his signature "Raftaar" in between the lines.
After getting through multiple controversies, he started giving numerous hits. Some of his songs are Swag Mera Desi and Jean Teri. And soon, he became a household name, delivering multiple back to back successes.
BOTY has created Raftaar songs list where you can check out all his hit singles as well as albums. Pick your favorite number to play and enjoy your time.