Rai started his career as a Television actor. And slowly, he moved to Singing. As a singer, Suyyash Rai songs are very deep in meaning. Most of them are based on heartbreak, while a few are some sweet and romantic numbers as well.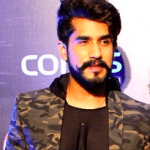 Suyyash Rai started his career from Pyaar Ki Yeh Ek Kahani, where he also met the love of his life, Kishwer Merchant. He also appeared in season 9 of Bigg Boss. Since then, his popularity increased multifold. Soon, he released many songs, some single, while some in collaboration with others.
Some of the single hits of Suyyash Rai are Khushnuma and Saaya. He has also appeared along with Darshan Raval in the song Teri Meri Dosti, which became one of the great friendship songs. He also released his music album Beparwaahiyaan, which consists of a story divided in multiple songs.
BOTY has created Suyyash Rai songs list consisting of all the songs by Rai. Check out the list and listen to his top songs. We will keep updating this list with Suyyash Rai new song whenever it releases.