Allu Arjun songs enjoy a considerable amount of listeners, and it is only because of the magnetic personality of the star. The expressions and dance of the actor on all his popular Telugu hits gain the attention of the audience instantly. Some of the famous songs from his movies are Lover Also Fighter, Sainika, Seeti Maar, Gudilo Badilo Madhilo, and many more.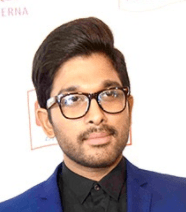 The fitness of the actor reflects in the dance of the actor. Allu Arjun has delivered excellent performances on his dance as well as romantic songs. Also, his attractive chemistry with the actresses set the mood of the audience in a state of amazement.
BOTY has created Allu Arjun all songs list, consisting of all the super hit dance and romantic numbers. Play the songs and lose yourself in the romantic aura around you.