Holi ayi aur dhol ni bajaya to kya bajaya? So this festival not only deserves to be played with colors but our list of Holi songs as well. Over the years, right from the Golden era, Bollywood has come out with numerous Holi dance sequences. They have perfectly captured the various moods and colors of HOLI. So you don't have to wait for dhol to dance on, just listen to those songs and celebrate the festival some more.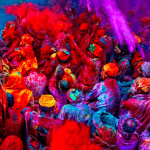 While every year, some or the other movie comes out with groovy Holi dance number, but very few songs have managed to gain immense popularity among the people. These Holi songs have perfectly captured the spirit of the festival. Whether it is celebrating with dry and water colors or dancing under the effect of Bhaang, the songs have perfectly shown how India has always celebrated its favorite festival.
While houses are cleaned and sweet dishes are prepared, why don't you too come out and have some dance? BOTY has created for you the list of top 20 best Holi songs. Now all you have to do is plug the stereo system and hit the PLAY NOW button. Have fun!