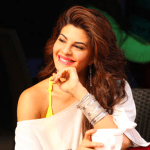 Jacqueline Fernandez Songs are way too sizzling and sexy than any other actress' songs. This gorgeous Sri Lankan actress has set her foot strong in Bollywood with her charms and cute smile. Her looks and attitude are what make her song more interesting to watch.
In a very short span of time, she has achieved great success. Initially, when she came in Bollywood, her voice was dubbed in every movie. However, since the movie Kick released, people get to hear her real magical voice. And just like her voice, she even won the hearts of people through her dances.
Jacqueline is one of the most graceful dancers in Bollywood. Just like Katrina Kaif and Deepika Padukone, even Jacqueline Fernandez songs also show her glamor quotient and skillful dance moves to the world.
Some of the top songs in Jacqueline Fernandez songs list include Sooraj Dooba Hai, Ek Do Teen, Chalti Hai Kya 9 Se 12, Jumme Ki Raat, Aa Zara and many more. She is also a very skilled pole dancer. Indeed there are a lot of qualities hidden inside this beautiful actress.
BOTY has created Jacqueline Fernandez songs list, which consists of all her top hit dance sequences so far. When you will listen to these songs, you won't be able to stop yourself from shaking your own body. So get on the dance floor and play these happening dance numbers.