Madhuri Dixit songs have brought a revolutionary change in the Indian cinema. All the dance songs from her movies enthrall the listeners completely and inspire them to learn exceptional dancing skills. Many young actresses have tried to copy her but fail to produce the same effect.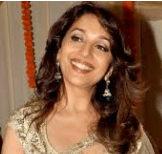 Madhuri Dixit songs are mostly remembered for her effortless performances.  Some of her famous performances are on the songs "Ek Do Teen," "Dola Re Dola," "Didi Tera Devar Deewana," and "Ghagra," to name a few. Her dance on the song in her 50's on Ghagra from the movie "Yeh Jawani Hai Deewani" shows her passion for dance. Due to her high fitness level, she has managed to do justice to all her performances and immensely contributed to Hindi film industry.
BOTY has prepared a list of all Madhuri Dixit Songs. Listen to these songs for free and collect your memories from her performances.