The King of Bollywood, Shahrukh Khan is the favorite of the whole world. His smile, killer looks, that romantic pose, dimples and every other thing are just enough to kill anybody. Even though he is not a very great dancer like many others, yet Shahrukh Khan songs always make his fans go crazy. He very well knows what this audience would love. And his songs perfectly capture that romantic aura he has around him.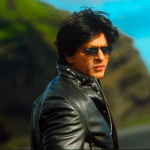 Some of the best songs in Shahrukh Khan songs list include Janam Janam, Zaalima, Yeh Ladki Hai Allah, Suraj Hua Maddham, Challa and many more amazing tracks. The list of his best songs is never-ending. Try asking people their favorite Shahrukh Khan song, the song would rarely repeat.
You might ask what is so special in his songs that no other actor can match his level? Well, for starters, he is not known as the king of romance like that only. He has built that image over many years. And that is what makes his songs so special. No other actor can depict the emotion of love in his songs so strongly as this Romance King. And hence, Shahrukh Khan's all songs become favorite of people irrespective of how his movies go.
Here, BOTY has prepared Shahrukh Khan Songs list, consisting of all his romantic songs so far. Check this list and play your favorite number. To make it even more amazing, pick your partner and get on the dance floor to sway on some of his best romantic songs.