Popular as Sona, and daughter of Shatrughan Sinha, Sonakshi has set her foot strong as one of the leading actresses in Bollywood. She has delivered lots of hits in this industry. And just like her movies, even Sonakshi Sinha songs have also won the hearts of the audience.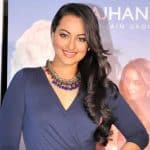 Her first song in Bollywood was Tere Mast Mast Do Nain, from the movie Dabangg. This song truly justifies her gorgeous eyes. Some of the best of Sonakshi Sinha Songs include Dagabaaz Re, O Janiya, Saree Ke Fall Sa, Sawaar Lun, Rani Tu Main Raja, and the list goes on. Not just Bollywood, she has also featured in hit Punjabi songs like Desi Kalakaar.
Furthermore, Sonakshi Sinha is not only limited to acting. Just like other actress-singers such as Parineeti, Alia, and Shraddha, even Sonakshi has also started her singing career. The first actual Sonakshi song is Hai Ranjishen, from the movie Akira. And strangely, the actress did not even rehearse for her song. In addition, she finished it in just half an hour on the spur of the moment.
BOTY has created a complete list of Sonakshi Sinha songs where you will even find the songs she has sung herself. Check out the list below and let us know which song you enjoyed the most. Meanwhile, we will keep adding Sonakshi Sinha new song as and when it will release.