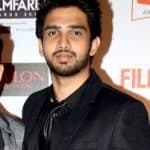 Brother of Armaan Malik and nephew of Anu Malik, Amaal has already been a hit in the music industry. He is majorly a music director and composer. But even Amaal Mallik songs are a melody to hear just like his brother's. Both the brothers have got this amazing talent of the soulful voice.
Amaal entered the music industry by being an assistant music director for the movie Sarkar (2005). And as a full-fledged music director, he made his debut in 2017 with Salman Khan's movie, Jai Ho. And as a singer, he made his debut in 2015 for the movie, Hero.
Some of the popular directed songs of Amaal Mallik are Sooraj Dooba Hai, Kaun Tujhe, Main Hoon Hero Tera, Zindagi Aa Raha Hoon Main, and more. While as a singer, some of the popular Amaal Mallik songs include Subah Subah, Aashiq Surrender Hua, Jab Tak and many more.
BOTY has created Amaal Mallik all songs list. Here you will find all the songs that he has sung over the years. Check out this list and listen to this amazing and musical singer.