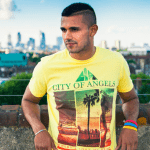 Jaz is one of the very popular Pollywood singers. He started his career in 2008, with the hit single, Roj Miliye. And soon, Jaz Dhami songs became the craze among people. Because of his singing, he has also won several awards in his career.
Some of the popular Jaz Dhami songs are High Heels, Zulfa, Beparwahiyan and Jean Teri. His song High Heels has also been recreated in Bollywood. With a slight change, the song was reused in the movie Ki & Ka, featuring Arjun Kapoor and Kareena Kapoor.
BOTY has created Jaz Dhami all songs list. This list contains all his top super hit songs. Browse through this list and listen to some amazing peppy numbers of Punjab.