Mukesh was one of the most popular singers of Golden Era. Along with Rafi and Kishore Da, Mukesh was also known as the legend of Music Industry. Mukesh songs were generally suited best for actors like Raj Kapoor and Sunil Dutt. He was one of the most acclaimed playback singers in our industry.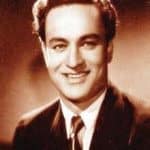 Kai Baar Yuhi Dekha Hai is one of the Mukesh's hit song so far. This song even won him many Awards. Where many singers today follow a particular style of their icons, Mukesh created his own unique style. And due to that, he became the ghost voice of the legend Raj Kapoor. That is, each song of Raj Kapoor was sung by Mukesh only.
Mukesh Sad songs, in fact, all the hits of Mukesh, have become iconic numbers of today. In most of the singing reality shows, the participants prefer singing those songs to show their skills in a better way.
BOTY has created best of Mukesh songs list, including all his party, sad and romantic numbers. Check the list below and enjoy listening to his soothing voice.