Shefali Alvares songs list encompasses romantic, rocking, sad, dance Hindi songs. She is currently active in the Hindi and Telugu music industry. Some of the popular Hindi songs of her career are Steal the Night, Dil Yeh Nakhrewala, O Gujariya, Party on my Mind, Badtamez Dil, Tera Naam Japdi Phiran, etc.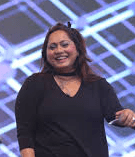 She has been singing since 2010 and has established herself as one of the leading playback singers of India. Shefali has sung some of the notable and evergreen hits in her career. It is the talented voice of the singer that is earning her all the respect in the Indian music industry.
BOTY has prepared a list of Shefali Alvares all songs. The arrangement of these songs is made on the basis of their popularity. This collection will be updated with the release of every new song of the singer. Listen to these hit for free and enjoy your time.