Belonging to the popular Bachchan family, Abhishek is one of the great actors of today. Even if he is not as popular an actor as Amitabh, Abhishek Bachchan songs are definitely something to watch and look forward to.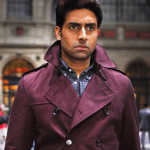 His songs make some of the best party numbers which you can play at any disco or get together. There are some evergreen Abhishek Bachchan songs which will definitely add wonders to your party. Some of these popular numbers are Say Na Say Na, Dus Bahane, Maa Da Ladla, Kajra Re, Where's the Party Tonight and a lot more.
Undoubtedly even when he is not an amazing dancer, his songs are some of the best dance numbers. BOTY has created Abhishek Bachchan songs list, where you will find all such dance songs. Play these songs and get your body shaking on the dance floor.