Chandigarh is one of the beautiful cities in India. Though a very small city, it has become popular all over, thanks to the popular Punjabi Chandigarh songs. Many of the Punjabi songs have immortalized Chandigarh among the hearts of millions of people.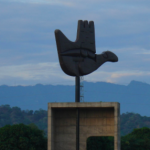 Nothing can be more proud-worthy for a Chandigarhian or Punjabi than to listen to the famous Chandigarh Songs. These songs are not only limited to the state of Punjab but have received widespread love all over the world. For example, the song Kala Chashma. This is an extremely famous Bollywood Punjabi song from the movie Baar Baar Dekho. The mention of Chandigarh adds to this song's grace.
Some of the other popular numbers in Chandigarh Songs List include Yaari Chandigarh Waliye, Chandigarh Returns, Chandigarh Police and many more. We have created a list of all of these songs, which will make you feel proud of this beautiful city from North.
Check out the list and enjoy the popular Punjabi numbers. If you think we missed out on any popular song, let us know by tweeting us or messaging us.