Although many good songs are released these days, nothing can beat the charm of Old Hindi Songs. Won't you agree? Just listen to any old song once, and that song will be on your lips the entire day. Their music and lyrics are so beautiful that you just can't stop yourself from singing that aloud.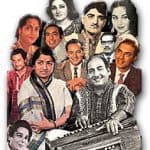 When we think of old songs, some iconic legends come to our minds. Kishore Da, Lata Mangeshkar, Mohammad Rafi and many more singers have made their eternal mark in the hearts of all the generations. Such is the effect of their music that when today's singers compete in any reality show, they chose old songs to justify their voice. Undoubtedly, songs of those times always bring a smile on the faces.
BOTY brings to you some of the best Old Hindi songs, of the times of Kishore Kumar and Rafi. Just listen to them and lose yourself in romance and happiness.