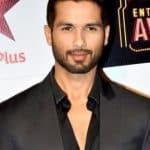 Shahid Kapoor is one of the most underrated actors of today. He is a fabulous actor as well as a dancer. His dancing skills in unmatchable. And hence, Shahid Kapoor songs become even more interesting to watch just because of his amazing dance moves.
Some of the popular songs of Shahid Kapoor where he has shown his exceptional dancing skills are Saree Ke Fall Sa, Saj Dhaj Ke, Aisa Deewana, Nagada Nagada, and the list is endless. When we talk about the best dancers in Bollywood, Shahid Kapoor is most of the times referred almost equal in place to Hrithik Roshan.
People today recognize Shahid Kapoor Songs for his brilliant dance performances. But he has failed to woo the audience much in terms of his acting. Most of his movies which are releasing these days are failing at the box office. The only exception is when the movie is a multi starrer like Padmaavat.
BOTY has created Shahid Kapoor Songs list, consisting of all his amazing romantic & dance numbers. You will definitely love this collection of songs. Just hit the Play Now button and enjoy his performances.