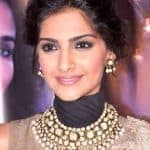 Sonam Kapoor is the most popular fashion diva of Bollywood. But along with being the fashion queen, she is also a brilliant actor and dancer. And just because of this, Sonam Kapoor songs become even more entertaining.
One can watch her dance, her expressions as well as her dresses. Her songs offer a lot more than just the music. Some of the popular Sonam Kapoor songs include Masakali, Abhi Toh Party Shuri Hui Hai, Dolly Ki Doli, Engine Ki Seeti, and the list goes on.
Because of her glamor and dance moves, she is one of the highest paid actresses of today. BOTY has created Sonam Kapoor Songs list, where you will find all her amazing numbers. Plug in your speakers and enjoy her super hit dance songs.