With his back to back hits in last 1-2 years, Guru Randhawa is climbing the ladder to success very quickly. People have started recognizing him and loving him for all his amazing songs. Guru Randhawa songs have also started featuring in the latest Bollywood movies. With his song 'Tenu Suit Suit Karda' in Hindi Medium, he has officially made his debut entry into Bollywood. BOTY has created a list of Guru Randhawa All Songs right from his start of the career. Without moving into the hassle of downloading or purchasing, you can listen to these songs for absolutely FREE on BOTY Music. Just click the Play Now button!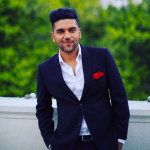 Guru was born in the District of Gurdaspur, Punjab in 1991. He started his career in 2013 with his first album release: Page One. He has also sung in the opening ceremony of IPL 2017 along with Yami Gautam. His debut in Bollywood gave him a much-needed push and popularity. One of the best Guru Songs, Tenu Suit Suit Karda became a blockbuster.
His first album, unfortunately, wasn't much of a success. His first success came from the Punjabi song 'Patola' which also featured Bohemia. Guru Randhawa is not only famous for his amazing singing, but also for his songwriting skills and good looks. Check out Guru Randhawa All songs here, with the trending and latest ones on top.