Guru Randhawa is the most versatile Punjabi Singer. All his Songs have a lot of variety which has helped him in reaching the top of his field. From a Technical viewpoint, his every song is sung at a different pitch and tempo. He has sung wild dance numbers like High Rated Gabru and also sweet pop songs like Ban Ja Rani (which featured in Tumhari Sulu).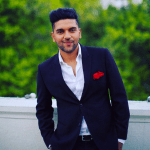 Guru Randhawa Songs are immensely popular outside India as well. He started as a small town Punjabi Singer with his popularity being restricted within the state of Punjab. But his music was so good, that it broke those barriers and went beyond Punjab. His demand has increased nationwide for concerts and Bollywood Music.
BOTY has created a list of Guru Randhawa All Songs right from his start of the career. Without moving into the hassle of downloading mp3 or purchasing, you can listen to these songs for absolutely FREE on BOTY Music. Just click the Play Now button!