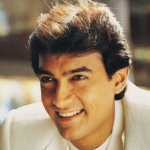 The Mr. Perfectionist, Aamir Khan is one of the most influential actors of the whole world. His presence and aura are so strong that despite his low public appearance, people feel pulled towards him whenever his movie releases. And just like his movies, Aamir Khan songs also attract a lot of attention from the people.
Out of all his movies, Dangal movie songs are ones which have been on loop in many people's playlists. Some of the best Aamir Khan songs include Dhakad, Malang, Jaane Kyu Log Pyaar, Chand Sifarish, Pardesi Pardesi and a lot more.
Most of his melodious songs of the 90s were either sung by Kumar Sanu or Udit Narayan. Aamir Khan has a very strong persona. His songs are either very romantic or are full of motivation that pushes you to achieve something in life. Overall, Aamir Khan songs are the best ones to be played on your playlists.
BOTY has created a complete Aamir Khan songs list, which consists of his best romantic and party songs. You will definitely love this compiled list. So just click the play now button and enjoy your time.