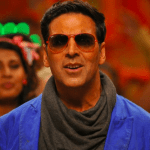 There is no doubt in the fact that Akshay Kumar is one of the best actors of today. With back to back social cause movies, he is gaining even more popularity in the whole world. And not just his movies, Akshay Kumar songs are also popular among his fans. People love watching him dance to some popular tunes.
Some of the famous hits of Akshay Kumar are Hookah Bar, Laung Da Lashkara, Party All Night, Chak Lain De, and many more. He has given lots of romantic, party, motivational, and even sad & sweet numbers. To check out the list of all his movies till date, you can click here. Or you can also check his best comedy movies so far.
BOTY has created Akshay Kumar songs list, where you will find him dancing to some amazingly popular numbers. We are sure you will definitely enjoy listening and dancing to these top hits. So why not play these songs in the background and get on the dance floor to copy some dance steps. Just hit the Play Now button and enjoy your time.